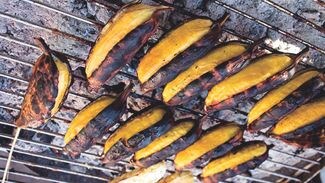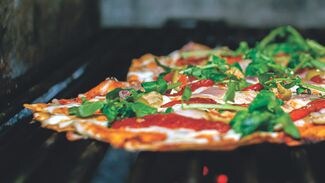 Surprising Foods You Can Grill 
Beyond the Meat: Tips for grilling salad, pizza and more
Grilling dogs, burgers and brats is THE summer tradition, but why stop there? A grill can be so versatile! From fruit and vegetables to pizza and . . . cake? Look at some interesting foods you can grill... 
Salad
Grilling can transform a blah salad into a dish bursting with abundant flavors and vibrant textures. A simple way to give a salad more personality is to add a few grilled vegetables. It's possible to assemble a salad entirely from grilled ingredients - grilled romaine, anyone?! Start with your favorite proteins: chicken and fish; then notch it up with corn on the cob (elote!), tomatoes, onions and peppers. And move on to other vegetables like beets, eggplant, sweet potatoes, green beans and zucchini. Maybe even try grilling kale and other greens.
Avocados
Avocados are tasty just as they are, but they might be even more delicious when grilled. Just peel one, halve and pit it, brush each half with avocado oil or olive oil and place facedown on the grill for a few minutes. Then  season and eat them right away - delicious, creamy texture and an extra touch of smoky flavor. Or, slice them up for sandwiches, wraps and salads; or fill them with salsa, sauce, shrimp or vegetables.
Pizza
After you've grilled pizza for the first time, you may never want to use your oven again. Once your dough is ready and your other ingredients are prepared, place the dough on the grill and let it cook for a few minutes on high heat with the cover closed. Then, flip the crust, add the sauce and toppings and cook for another few minutes. Make sure your toppings are sliced thin and not piled too high, or they won't be done when the crust is. Once your pizza is ready, prepare to be amazed - the grill's blistering heat results in an addictive crust that's crispy on the outside and just chewy enough on the inside.
Bananas and Plantains
If you're making dessert on your grill, bananas are a great fruit to start with. There are two main techniques for grilling bananas: slicing them in half lengthwise and slicing them in chunks. Either way, leave them in their skins. It's also a good idea to brush them with butter or oil to keep them from sticking. Once your bananas are grilled, they can be served with ice cream or other fruits, topped with caramel sauce or drizzled with honey and sprinkled with cinnamon.
Cake
Well, maybe! Cornbread may be the more durable choice, as you can pour the batter into that trusty black, cast iron skillet and come away with some pretty dependable results. Try heating the grill to a medium temperature, and place the cast iron skillet over indirect heat. Some of the wood pellet grills can be good at this, as they have a fairly precise temperatur control - and the wood smoke can add a pleasant flavor to cornbread, especially if you like to use pork belly or bacon in your cornbread batter (not a vegan thing, of course!). Alternatively, there are some cakes that take grill marks well - slice up some pound cake or angel food cake and place on a well-greased grill. The char can add a bit of dimension to the dish (gilling caramalizes the sugars in the cake slices to diversify the flavor). Just be attentive: don't really want "blackened" cake slices ;-)....
What else have you grilled? Share your ideas - turn that predictable backyard cookout into an amazing meal!
Car Care: How to Care for Your Car's Upholstery
Help keeping a car's upholstery looking like new
No matter how much work you put into keeping your vehicle's exterior looking clean and shiny, passengers are likely going to be more interested in how you take care of it on the inside. If your vehicle's upholstery is tired, stained or emitting some strange odor, a few extra steps to ensure that the interior is looking every bit as good as your exterior will make the driver and passengers feel good. It may prevent passengers from turning up their noses at a ride; and also help your vehicle retain more of its value over time.*
Stock up on the right supplies
Before you dive into cleaning your interior, be sure you have everything you need at your disposal. Running in and out of the house or to and from the store for cleaning tools will make upholstery care a much bigger chore than it needs to be.
Here at Montrose Ford Nissan, Jack Weyers recommends essentials such as a microfiber cloth; a soft, clean sponge or cloth; a good vacuum; a bucket of warm water; and a bristled, yet soft scrubbing brush. Some kind of upholstery cleaner may be necessary; but take care to ensure that the product that you choose is appropriate for the material in your vehicle.
Apply care 101
Before getting into the nitty-gritty or nooks and crannies of upholstery care, it's good to start by clearing the clutter under or around your seats. You'll also want to take out any floor mats to ensure that you clean the area beneath them. Once your seats and floors are bare, use your vacuum to remove dust, dirt and debris.  Try a wet/dry vacuum due to its superlative cleaning power and an extended cord and hose.
Once you are satisfied that you've vacuumed up as much of the dirt as you can, most experts suggest going over your surfaces with a moist cloth and spot-testing your cleaning agent.
Refresh cloth seats
If you would prefer a more natural solution to cleaning your cloth seats, or even just a more affordable choice, you can easily concoct a home remedy that is as effective as anything you'll find at the store. One old-school method combines a gallon of water with a cup of vinegar and a touch of dish soap. Using a hard-bristle brush, lightly apply this mixture to your fabric surfaces and let sit for 30 minutes. Once it's sat long enough, apply warm water and blot dry.  Again, spot test this concoction before applying all over, to test how the fabric may react.
If you want something more fragrant, you can include a few drops of essential oils to your cleaning mixture. This provides a fresh scent without the heaviness of a chemical solution.
Condition leather upholstery
Leather upholstery requires a softer touch than fabric upholstery, and it's probably best not using ammonia- or bleach-based cleaners. If you don't want to invest in a leather-specific cleaning substance, try making a homemade solution by mixing five parts warm water with one part liquid dish soap in a bucket. Apply to a cloth and wipe down your seats and surfaces thoroughly. Use a second cloth, damp with water, to wipe clean and a towel to dry.
If your elbow grease is just not enough to renew your car's interior satisfactorily, or your schedule is just too packed to do your vehicle justice, consider reaching out to the professionals to get the job done properly. Your vehicle is one of your biggest investments, and spending a little time or money to make sure that its interior is well-maintained is well worth the return.  Ask one of Montrose Ford Nissan's detailing experts for extra help with your vehicle's interior - any make, any, model!
*And of course, if your car is dirty & you'd just like to get rid of it, we'll buy it!  We love used cars - in any condition!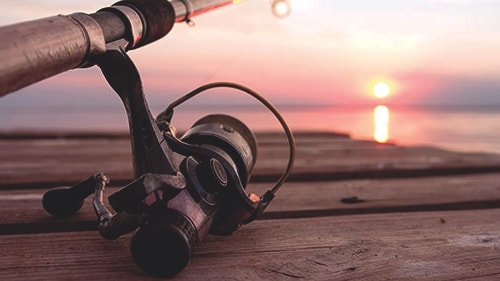 5 Places to Go Fishing in Colorado...
Just a few memorable spots, in a state full of prime fishing 
The state of Colorado is home to a nearly innumerable array of fishing opportunities: reservoirs, streams, beaver ponds, rivers... Combine them with an immense variety of terrain, and you have one of the best states in the nation for fishing enthusiasts. 
South Platte River
The South Platte is one of the more famous fishing spots in the state, having been one of President Eisenhower's favorites in the 1950's. And the Wigwam Club, near Deckers, is world-renowned for its exclusivity - purportedly, one does not ask to become a member! Nevertheless, there are numerous opportunities for the public to fish the stretches near Deckers. For a bite and a beverage, visit the Bucksnort Saloon, near Sphinx Park, Colorado (http://thebucksnortsaloon.com). Further upstream, there are several reservoirs (in South Park), including Tarryall, Eleven Mile, Spinney and Antero - all offering a variety of fish, from Rainbow trout, Browns, Cutthroat, Kokanee Salmon, Lake trout, Brookies and even some Walleye and Northern Pike.
Blue Mesa Reservoir
Colorado is home to few naturally-occurring lakes, due to the tremendous terrain & elevation changes. So, almost all of the lakes in the state are actually reservoirs. The largest of these is Blue Mesa Reservoir, near Gunnison, with a 390-foot tall dam and over 9,000 surface acres. Blue Mesa spans 20 miles and boasts over 96 miles of shoreline. Blue Mesa is part of the Curecanti National Recreation Area, and offers two full service marinas - Elk Creek Marina and Lake Fork Marina - as well as the famous Pappy's Restaurant overlooking the lake (https://www.thebluemesa.com/pappys). The surrounding Gunnison County offers the best of Colorado with truly outstanding and spectacular scenic areas, gold medal and wild trout waters, and great recreation.
Colorado River and its head-waters
The Colorado River begins in Rocky Mountain National Park. During its trek west, the Colorado forms one of the major waterways west of the Continental Divide until it reaches the Gulf of California, some 1,450 miles away. In the sections from Gore Canyon to the town of Rifle, the Colorado is generally a wider and slower river with some faster canyon stretches and beautiful scenery throughout the corridor.  The sections below Glenwood Springs tend to be some of the first available for early-season float fishing. The Colorado covers an enormous territory, with abundant opportunities to view wildlife and unique geology - other summertime recreation includes world-famous whitewater rafting.
Ruedi Reservoir
Pronounced "rue-die" by locals, Ruedi Reservoir is located on the West Slope of the Continental Divide on the Fryingpan River, roughly 15 miles upstream from the town of Basalt (Aspen is a short drive via some rugged 4x4 trails - perfect to test out your F-150 or Titan off-road capabilities. Paved-road access is on Frying Pan Rd from Basalt). The reservoir is in the White River National Forest, sitting on the county line between Pitkin and Eagle Counties. The Kokanees can be plentiful; but check the stocking report to be sure. The Fryingpan River just below the dam is a great place to stalk that elusive "lunker" trout; and the river has become well-regarded as a Gold Medal fishery.  Ruedi is also home to the Aspen Yacht Club.
Arkansas River
The Arkansas is over 1,469 miles long - but the stretch from Leadville to Canon City offers close to 80 miles of public access, with fairly plentiful catches of brown trout and rainbows. Most average "stocker-size", with some reaching lengths over 20 inches. The Arkansas River is popular for both walk/wade and float fishing. The "blizzard" caddis fly hatch in late April/early May is renowned; but hatches throughout the year make this a very consistent fishing stretch, where anglers can usually find a spot of solitude and reliable catches.
If you're a fan of fishing, there's no shortage in the Centennial State!  For more ideas, visit http://cpw.state.co.us/thingstodo/Pages/Fishing.aspx - and before casting a line, be sure to get your fishing license at http://cpw.state.co.us/buyapply/Pages/Fishing.aspx - or find a list of local license agents here: 
https://www.cpwshop.com/issuerlist.page